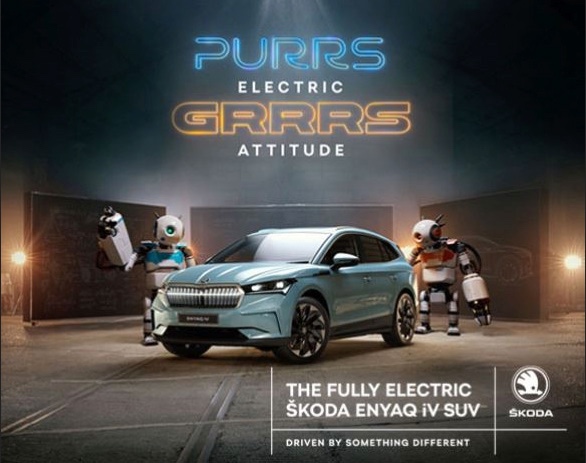 The New Enyaq - Are You Purr...or Grr!
Skoda are sponsoring an official national launch for their new all electric Enyaq tomorrow, Friday 18th June and the campaign will be supported by a national TV advert.
In keeping with the incredible pace of technology there is no human celebrity sponsoring this high-tech machine, rather two new robot stars called Purr and Grrr. Purr and Grrr land on earth and are shunned by everyone they meet....so they decide to build a car, and the car is called....? No prizes for guessing the right answer!
The underlying concept is really simple – something so beautiful and technologically advanced will make anyone who loves gadgets "Purr" with delight. On the other hand, anyone who loves a performance car will definitely witness some serious "Grrr" when they press the pedal down.
The whole day on Friday will be dedicated to the launch and anyone attending the dealership can expect special treatment. All our sales executives have been primed to welcome any prospective customer and if nothing else, anyone walking through the door is sure to be impressed.
The car will actually be officially unveiled at 9 am and we will be running test drives over the weekend which can be booked on the day.
As always places are limited so we would want to make sure that all interested parties are "purring" when they leave and not "Grrring" because they missed out on this fantastic day.
Anyone wishing to attend should contact our GM John Sharp directly on john.sharp@lightcliffe.co.uk, and we all look forward to "electrifying" you at the dealership on Friday.
Latest News