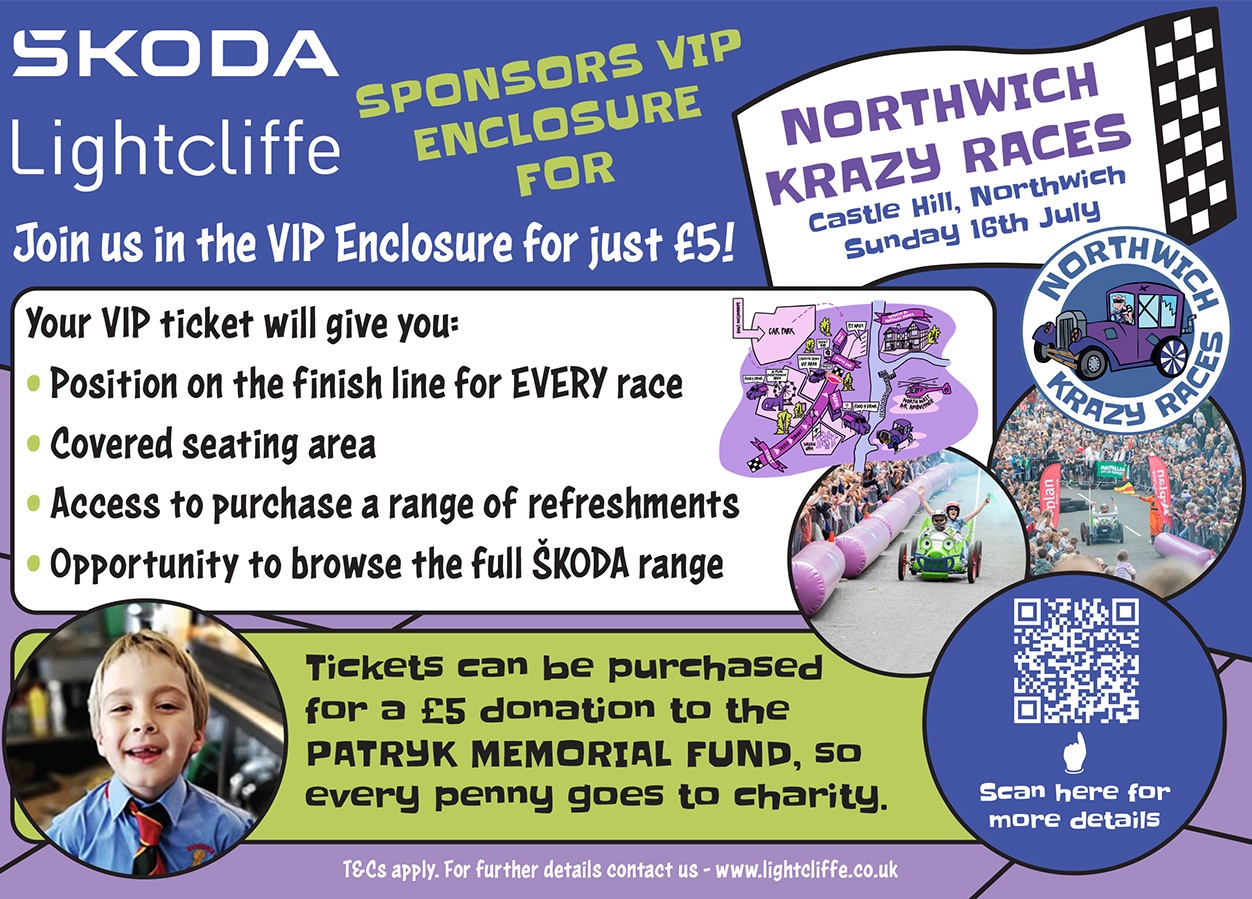 Sponsors Rally Together for the Patryk Memorial Fund and Enter Krazy Races Event
The official press release for Lightcliffe's sponsorship of Northwich Krazy Races is now available and published below. Tickets are still available for the VIP enclosure and can be obtained by making a £5 donation to the Patryk memorial Fund (http://m0r.at/xFZ) and sending Just Giving confirmation email to krazy@lightcliffe.co.uk.
Official Press Release
A number of local companies and organizations have come together to support the Patryk Memorial Fund through their participation in the upcoming Krazy Races event in Northwich. Lightcliffe Skoda Warrington, Northwich Glass, Gaskell's Northwest Waste, M&S Logistics sandbach , Rightway Paint and Body Crewe, Riverside Animal Feeds Sandbach, Richardson Fabrication Elworth, Symphony Hospitality Sandbach have all generously donated their time and money to this cause.
The team behind the Cart includes local business people Ian Rutter and Richardson Rutter Family, James Richardson (Richardson Fabrication), Eric Monaghan (Driver), Geoff Price, Dave Musgrave (Riverside Animal Feeds), Tracy Johnson, John Sharp and team at Lightcliffe Skoda Warrington, and the U12 Sandbach Rugby members. Together, they have created a Rugby ball-based go-cart that will race down the steep Northwich Castle Hill around obstacles against other competitors in hopes of raising in excess of £5000 for the memorial cause.
The Krazy Cart is currently in production and further releases will be made once it is complete. However, the sight of a flying Rugby Ball racing down the hill will be spectacular if it makes it all the way down. All people are invited to attend this amazing Spectacular on Sunday, July 16th in Northwich. There will be a VIP area close to the start and finish line at the bottom of the Castle Hill at Verdin Park car park for the best viewing of the event. Access will be free to children and £5 for each adult (proceeds to the Patryk Fund). Catering will be available during the day in and around the VIP area supplied by Symphony Catering (Patryks parents Andy and Aggi).
Patryk Milner was just seven years old when tragically he died after losing consciousness at his school (Offley Primary Academy) in Sandbach, Cheshire on 2nd Oct 2020. He was taken by air ambulance to Alder Hey Hospital where he sadly lost his fight despite the heroic efforts of doctors and nursing staff.
His parents, Andy and Aggi Milner immediately consented to organ donation, and as a result, an adult and a young child received life-changing organ transplants. To this day, it is still unexplained why Patryk was taken from us. The event promises to be an emotional day for all the Team and in particular, Patryk's parents, Andy and Aggi. Please join us if you can - your support is welcome.
Latest News