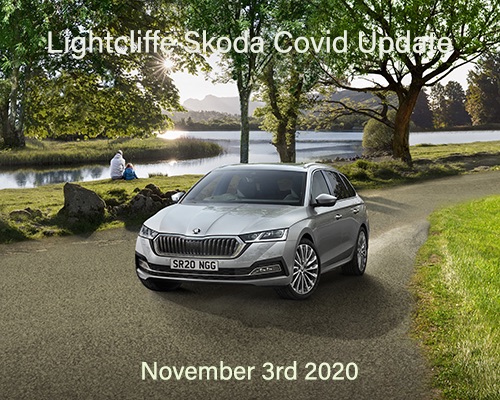 Lightcliffe Skoda Lockdown Update
Lightcliffe SKODA Lockdown Update
During the forthcoming lockdown period the dealership will be operational at a level to ensure we can fulfil the following criteria;
Adherence to all government guidelines relating to trading during lockdown

Attention to safety precautions to keep our customers and staff safe at all times

Application of all internal procedures to ensure that all customer enquiries can be dealt efficiently and safely across the range of services that we provide
Lightcliffe SKODA Sales Team
The showroom new and used car display will be closed to the public until further notice
We will operate a "Click and Collect" service for all customers who wish to purchase cars during lockdown.
Our staff will be available for "Virtual " appointments at all times to ensure that all needs during the process can be addressed
Finally, all required documentation has been set up so that signatures can be taken online, and all transactions will either be remote or contactless
Lightcliffe SKODA Service Team
The service & parts department and workshop will remain fully operational during lockdown and we have taken additional safety measured to ensure safety for all customers and staff alike.
We will also be operating collection and delivery options wherever possible and when visits are required, all necessary social distancing and sanitisation rules will be observed.
Contact
If you have any questions on any of the above, please feel free to contact us anytime to discuss your own circumstances or particular requirements and we will endeavour to accommodate wherever possible
The dealership will be open for telephone calls during normal hours on 01925 633583 where we have a dedicated showroom host to direct your call.
Alternatively feel free to contact us via email or live chat from the website anytime where your enquiry will be deal with at the earliest possible convenience
Latest News