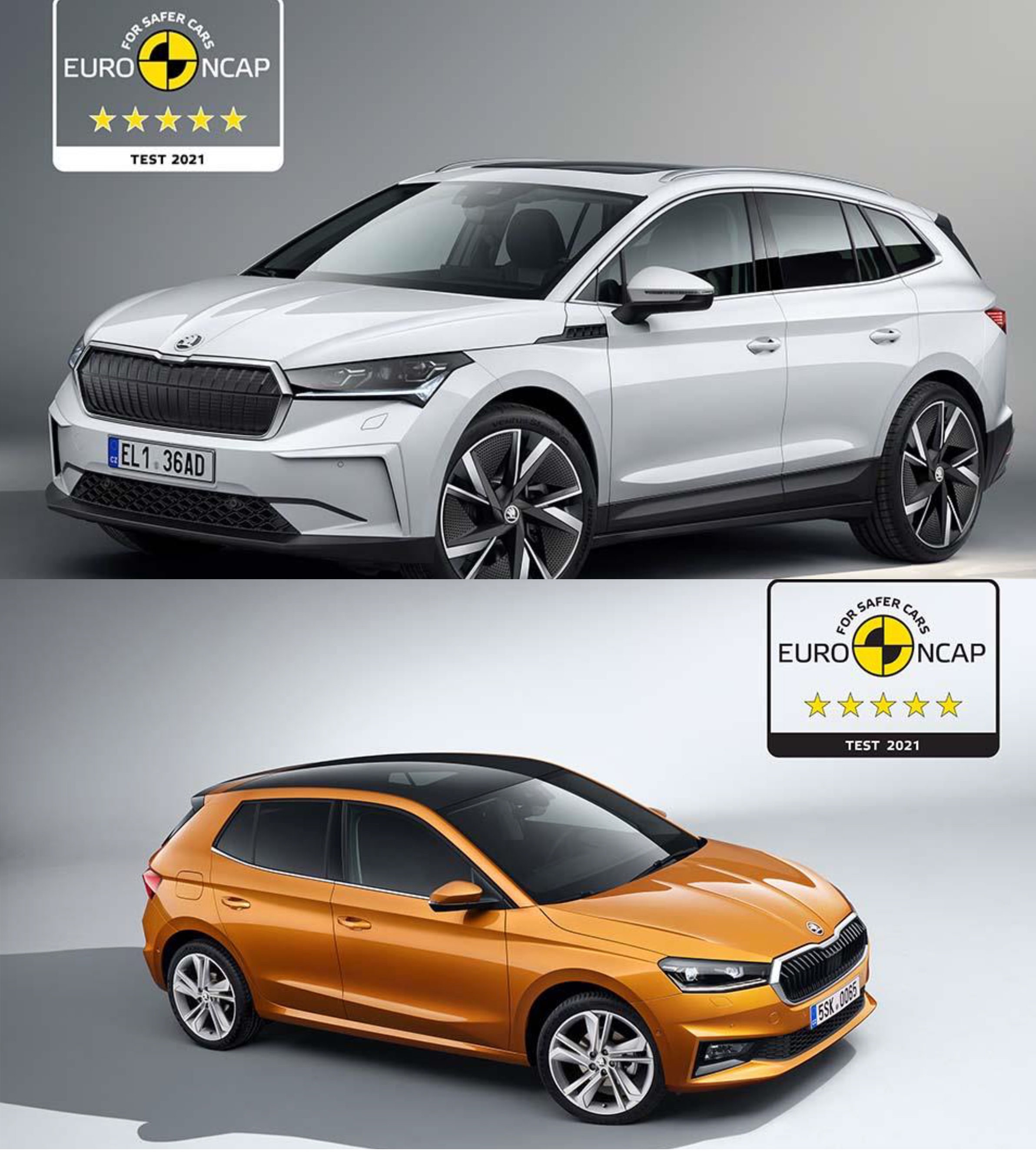 ENYAQ iV and FABIA 'Best-in-class 2021'
The European New Car Assessment Programme (Euro NCAP) has declared the all-electric ŠKODA ENYAQ iV SUV and the fourth-generation ŠKODA FABIA best-in-class for the 2021 test year. This means the two models were the safest of all vehicles tested in their respective classes in 2021. The ENYAQ iV is the safest SUV to have been submitted to the crash safety reference test to date, scoring 86 per cent of the total possible points.
The new FABIA meanwhile, at 78 per cent, achieved the best score of all the compact cars tested in 2021. ŠKODA is the only manufacturer to be represented with two vehicles in the line-up of 'Best-in-class Cars of 2021'. All 14 new ŠKODA models launched since 2008 have received the maximum five-star rating in the Euro NCAP test. ENYAQ iV is the first ŠKODA vehicle to be based on Volkswagen Group's MEB modular electric car platform. It achieved outstanding results in the comprehensive crash and safety checks of the Euro NCAP test, particularly in terms of occupant protection. With 94 per cent of available points for Adult Occupant Protection and 89 per cent for Child Occupant Protection, the ŠKODA SUV set a new record in the Euro NCAP tests, which were once again made more stringent, compared to 2020. Since then this percentage has only been exceeded once, by a premium class vehicle.
The new ŠKODA FABIA benefited from a further increase in safety because of the switch to the Volkswagen Group's MQB-A0 Modular Transverse Matrix, which now allows the use of seven modern assistance systems, among other improvements. The successful model's fourth generation scored 78 per cent of the maximum available points and, like the ENYAQ iV, excelled particularly in the area of occupant protection, with 85 per cent of the possible points for Adult Occupant Protection and 81 per cent of the maximum points for Child Occupant Protection.
Latest News