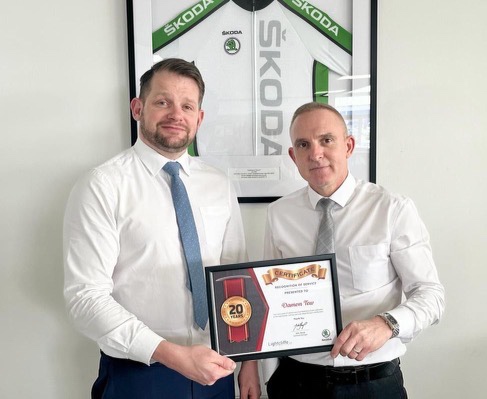 Damon Celebrates 20 Years as Parts Manager
Loyalty is a rare commodity in this day and age not least in the automotive industry where inter-dealership associations and referrals are commonplace resulting in a higher-than-average level of headhunting. So, when a highly respected and competent manager hits the 20 year milestone it's definitely cause for celebration.
Damon Tew (or "Damo" as he is affectionately known to all of us here at Lightcliffe ) is just one of those people. Trained as a cabinet maker, Damon was originally at Liverpool Honda and moved over to Warrington after it's acquisition by the Lightcliffe group to become Parts Manager. Embracing the challenge of a new brand and dealership at the same time is no mean feat so Damon immediately set to work, learning a new inventory of several thousand parts and even committing individual part numbers to his legendary photographic memory as part of the process.
Typically modest and genuinely humbled by the award, Damon was effusive when presneted with the award; "This was something I was not expecting at all …. the last twenty years has flown by and made easier with the people I work with" Adding that he was looking forward to the next twenty years Damon, accepted the £200 voucher and bottle if fizz with characteristic modesty and good grace.
"It actually fills me with pride to present this award" said GM John shown here in the picture with Damon. "Damon has always set a really good example to the younger members of staff with his diligence and hard work, and I speak on behalf of all of us here when I express my gratitude for his contribution"
Congratulations "Damo" from everyone at Lightcliffe and we all wish you another 20 successful years in the business.
Latest News