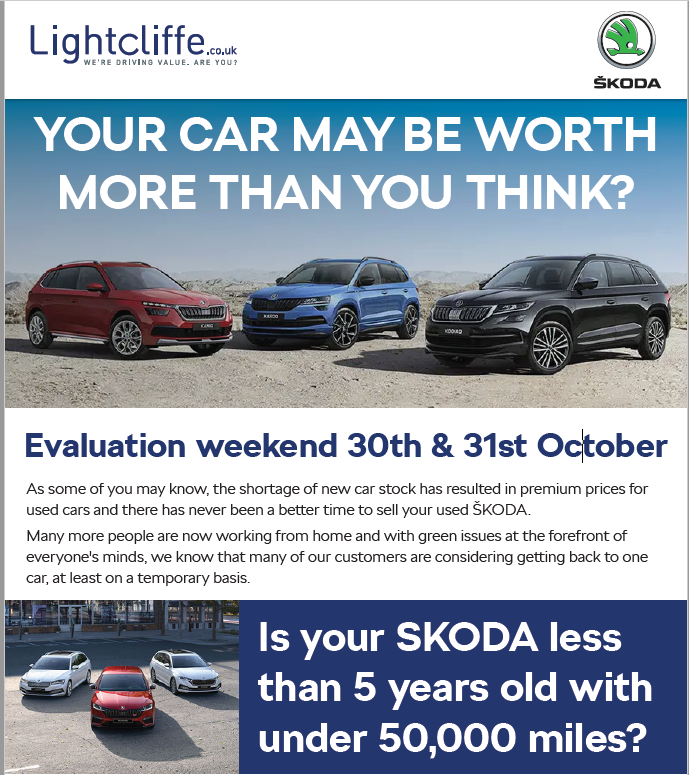 Lightcliffe Evaluation Weekend
The last year has been challenging in so many ways, not least the test it has given to the global business community. Working from home and improvements in working hygiene practices are just two of the most notable, and in most cases these have been welcome changes.
Not so cordially received however is the impact Covid has had on global supply chains and the knock on effect it has had across all businesses including our own motor industry.
For well over 50 years now the motor industry has thrived on a basic formula, namely, customers deciding they want a new car, then trading their old car in for a new car with the dealers buying part ex. either to retail from the dealership or to pass on into the wider trade. This process worked like clockwork until the supply of new cars dried up, which in turn reduced the used car supply to almost zero.
The only positive outcome that this trend has presented for the customer is a bounce in used car values and the Evaluation Weekend is an opportunity for customers to find out what their car is currently worth.
The itinerary is straightforward - customers make an anointment to bring their car to the dealership where one of our execs will run a full valuation and get the car velated "while u wait".
It's always nice to see our customers at the dealership, and it will certainly make a nice change when the "trade in" appraisal valuation brings a smile, rather than a grimace to the face!
Latest News