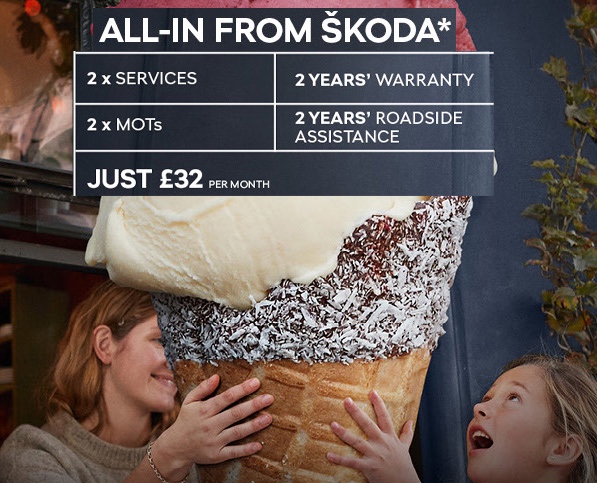 ALL IN - The Must Have New Skoda Offer
The average cost of breakdown cover in the UK is around £15 per month for a basic package, although the small print can sometimes catch motorists off guard. For example, it is well known to the main insurers that 37% of breakdowns happen in the morning at home, so the inclusion of the "1m from home" clause is clearly a strategic decision and not just an afterthought.
Annual service and MOT costs for cars over three years old often run into the hundreds and extended warranties are beyond the budget of many motorists who decide to opt for a purchase outside the standard manufacturer's 3-year warranty period. More importantly these four cost areas are often very difficult to budget for even with most reliable brands.
With these facts in mind, it's hardly surprising that the new ALL-IN offer from Skoda, has raised more than a few eyebrows in the industry and as well as underpinning the brand's faith in their engineering, it also offers Skoda customers an unbelievable deal.
For just £32 per month, customers will get 2 years breakdown cover, 2 services and MOT's, and a full warranty for the same period which even for the most dispassionate observer is some deal!
The offer does require a vehicle health check at the dealership, but any car presenting sensible wear and tear for its age will be accepted.
Our aftersales team would be more than happy to discuss your own situation anytime so feel free to give us a call, email or "chat" message should you require further details.
Watch this space for more news on the fantastic new ALL-IN deal from Skoda!
Latest News